NURSE AROUSAL TREATMENT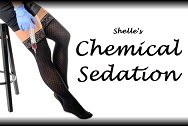 I have two extra special very sexy files for you this week. your sexual needs and desires are now completely connected to Me under My absolute control in Chemical Sedation. This mp3 is SEX for your mind....I mean, it's so sexy that the rating is XXX...Not for little boys, especially bad little boys......Haha..... In this powerful session I have merged My two talents and skills, as Hypnotic Domina and Nurse, to bring you the Treatment of a lifetime. Inhale the pleasurable relaxation of a deep induction into a perfectly suggestible sleep. Be a good boy for your Nurse, as I administer your treatment forever linking your sexual pleasures and desires to Me and the sound of My sweet voice. With each response to My POWERFUL TRIGGER, each arousal and orgasm intensifies to My increasing control over you. A perfect management plan. ~giggles~
And now, finally, I have this week's special second session for My Sissy Maid -- This is an extremely arousing and erotic session with compelling triggers to lure you into following ALL My instructions. Under My overwhelming motivation you obey and do what you are being taught to do. As I thrust you into new behaviors, you obey because this is what YOU want and need so badly. you become what your Domina wants you to be. Close your eyes. Listen and follow My plan for you, My baby, as I bring about your desired transformation. The more you work for Me, the more brainwashed and aroused you become, the more you want to obey My instructions....
This session is so incredibly HOT, that I encourage EVERYONE to listen but only if you are interested in being VERY submissive and VERY wet. ~giggles~ Curious about having Me push your limits? Trust Me, this is scalding HOT!
SHELLE'S MANAGEMENT
I wanted to give you an update on My increasing use of "Management". It's my way of saying I am having more of My way with you. Taking control...when you go deep and listen to My files, which are progressively brainwashing and conditioning you. Or you do My assignments, follow SFS calendar, I am helping you "Manage" more of your time with Me....managing when you get Hard for Me and what I expect from you. How you obey and please Me. I am advancing deeper into your real life, giving you a deeper sense of submission and servitude.
UPDATES
Lady H has BOOT CAMP ready...Email me for PERMISSION to join and MORE information... I'll give you more details at that time. This BOOT CAMP is NOT for the weak. The sessions are powerful...and I am allowing Lady H to train you to be a better slave for ME.
Contracted, I have updated SFS to place Slave Stories in a new location. At the top of the page click on Slave Stories and you will find a new posting, Jeb's Story, with the previous two stories. I am going to commission Story Topics or Themes, like an assignment you can do for Me. I'll add that next time to My SIGNUP Description so you can choose a story subject to sign up for.
PS...I'm working on extra SPECIAL trainings for you to make up for April. Watch your email.
NEXT WEEK
I have 4 LOOP sessions of Brainwashing and Conditioning, not to mention SUBLIMINAL training... all in one package with those special effects you LOVE. And then, I'll make you My Lab Rat in two weeks. You will find that these loops will bring it all together and make it all a part of your EVERYDAY life. Isn't it sexy to give a BEAUTIFUL and POWERFUL woman so much control.
I'll be away at the beach next weekend with the Girls...you know how much I love that. Wouldn't it be nice to send Me with a little spending money? I'll let you know how next week! Lucky you. ~giggles~ I have a new bikini, would you like pics...I mean really HOT wet ones.
My special deals ...
Princess Spa --
My sexy voice and silky long fingers will massage your mind and take you away to My world.
Lucid Dreams--DOMINATION --
My WICKEDNESS taken to a whole new level... "Control" over you is too powerful to resist.