Newest Product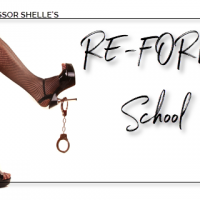 Session: 53+ minutes
My HORNY student, this is the EIGHTH Class of 15 at Shelle's Re-Form School for Boys. your Professor, your Domina, Professor Shelle will instruct you on why you love to be obedient and Chaste for Me with this month's topic, CHASTITY. As a submissive, you want this control over your right to orgasm. you want My c*ck control to give Me your obedience and submission. When you are in Chastity all you can do is OBEY.
These classes are training lessons to make you the best slave you can be for your Domina. With each lesson I teach, you are understanding more clearly that when you do everything you can to please your Domina, so many benefits come to you, compelling your devotion to serve Me in ALL the ways I want. As always, your happiness and pleasure come from your expressions of submission, obedience, love and devotion in servitude and enslavement to your Domina and Teacher.
Stroke - $15
Sun, 12/11/2016 - 10:57
|
Shelle
When you send a $15 Stroke Tribute, you may ask your Domina for a Picture to stroke to, in addition to requesting My expressed permission to C*m Before you orgasm.