Newest Product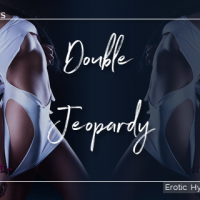 Session Length: 28 minutes
My pet, you are in for a special treat. I am going to send you on a wonderful journey into deep trance, hypnotizing you with a series of simple questions and suggestions. your poor mind is going to be overwhelmed by My sexy sensual voice and be disarmed by your own desire to surrender to My every word. I have conditioned you to respond to simple triggers and, in the hands of a skilled hypnotist like Me, it can be used to alter perceptions and reinforce your ever growing dependency on Me, your adorable Princess and beloved Domina.
But, My sweet, you are in double jeopardy in this session. Not only am I going to en-trance your weak subjugated submissive mind, I'm going to do it twice! A trance within a trance bypasses all defenses and in this state I can strip away those filters and mental blocks you use to dilute and deflect My suggestions. I know you'll instinctively try to resist Me, fighting that sinking feeling as your control slips away, but there is only one outcome, My slave, complete and utter surrender to Me, blissfully accepting that you exist to obey Me in all things.
And what will be left of you, nothing, My pet. This deep in trance you lose everything, your will, your capacity for thought, your memories, even your identify is lost to My inescapable authority and control. And once primed for deep conditioning, My words will dominate your thoughts giving Me the power to control what you will consciously remember.
Do not be surprised to wake from trance confused, aroused and craving more of this control. you may not remember exactly what I've done to you but you WILL know you only want MORE... (Giggles)
Princess Shelle-Is this a DREAM
Mon, 11/15/2010 - 21:11
|
Shelle
Audio Story: Princess Shelle-Is this a DREAM
Length: 35 minutes
Let Me tell you a story
A wonderful tale of a Hypnotic Princess who lived in an Ancient Castle, she will lure you to Her dungeon. No way out-you will not want to escape```Cum to Me slave!